Capabilities
Marketing plans and strategies
NDIS marketing plans a specialty
Access and inclusion plans
Stakeholder consultations
Strategy and campaign development
Brand development
Management
And much more
How can we help you?
Do you need experts to develop a marketing strategy, update policies or consult with your community? Maureen Shelley and her team bring a wealth of experience to every project.
Along with our highly regarded consultants, who are experts in their fields, we can assist you with complex inclusion projects, independent reviews, policy overhauls or rebranding exercises. See our consultants below.
Leadership
Maureen Shelley, CEO
Maureen Shelley is an experienced marketer, writer, editor and strategist. She has Masters degrees in Business Administration and Intellectual Property Law, and a Master of Equity and Social Administration.
Formerly a nationally syndicated tech journalist for News Corp, Maureen is also an accessibility expert who leads many of our Government projects. She's a sought-after international speaker and is a national judge of The Lizzies, the IT Journalism awards.
Consultants
Kirryn Zerna
Kirryn Zerna is an award-winning speaker, trainer and mentor. Her passion is to help businesses to get the attention they deserve.
What's unique about Kirryn is her broad experience across industry. She draws on over a decade of experience in marketing communications, strategy and social research working with businesses both large (Westpac, Department of Industry, NSW Small Business Commissioner) and small (consulting agencies, small businesses and high profile individuals).
Read more about Kirryn
Graeme Innes AM
Graeme Innes AM is an experienced consultant, company director, senior executive and human rights practitioner. He has a wealth of experience in leading, managing and inspiring organisational development and growth in the government, corporate and not-for-profit sectors and is regularly consulted by government at all levels.
At TCC Strategic Consulting, Graeme leads projects on disciplinary matters, independent reviews, strategic reviews and planning, policy and practice reviews, accessibility, inclusion and action plans, social justice and human resource matters.
Read more about Graeme
Amanda Lawrie-Jones
Amanda Lawrie-Jones is an experienced HR professional and disability consultant.
Having lived experience of disability, Amanda is passionate about implementing policies and processes within organisations that enable an inclusive environment for employees, customers and community members with disability.
Amanda has also worked as a consultant with Graeme Innes to review and improve the attraction, support and retention of employees with disability at the NDIA.
Read more about Amanda
Angela Catterns AM
Angela Catterns is a well-known and highly regarded Australian media personality and radio presenter.
Angela is currently involved in the development of marketing collateral including video, stories and podcasts for Tweed Shire Council.
Angela freelances as a writer, interviewer, podcaster, presenter, voiceover artist, and MC – hosting proceedings for a variety of conferences, corporate events and charity fund-raisers.
Read more about Angela
Ready to learn new skills in marketing, accessibility and more?
Case studies
VisAbility Tasmania marketing
VisAbility Tasmania was keen to raise awareness of their diverse services within the wider community. With some brand confusion, the looming challenge of the NDIS funding changes, and limited resources, they need a tailored solution.
We developed a social media marketing campaign to suit them, using their website, e-newsletter, Facebook and Instagram to increase their membership and brand awareness.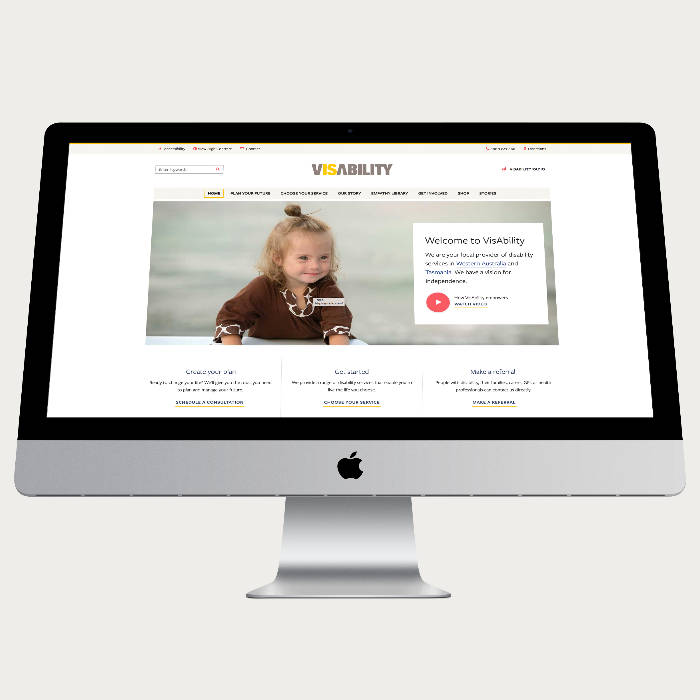 VCAT Accessibility Action Plan
The Victorian Civil and Administrative Tribunal (VCAT) invited TCC to prepare their first Accessibility Action Plan. The plan includes tangibles activities and initiatives to guide change.
It provides regular reporting and review mechanisms. It clarifies staff responsibilities about customer service. It removes legacy barriers associated with awareness, attitudes and training. It sets out how VCAT will provide a supportive and inclusive workplace.
What could our strategic consultation do for you?
"It's been a pleasure working with TCC on the development of the access and inclusion plan."
Genevieve Nihill AM
Deputy President
Victorian Civil & Administrative Tribunal